Our postage policy is as follows:
All items will be posted using Australia Post for Australian order or DHL Packet Plus for international orders, unless otherwise specified requested by purchaser.

Using another courier service will be to the cost of the purchaser.

Allow for up to 2 weeks delivery of stocked items. In most cases it will be sooner. AFFORDABLE TABLE TENNIS will confirm whether the said item is in stock.

Items Shipped via Australia Post can take up to 7 days for Australia, and longer for worldwide shipments.

Pick-up is available by Special Request. Sunbury, Victoria, Australia. Email us for the pickup location.

Please Select the relevant Shipping Destination when Selecting your Rubbers or Blades,

The Shopping Cart program doesn't always charge the Correct amount, We reserve the right to alter shipping prices if a mistake has been made. Our policy is to charge what we have been charged, not a cent extra, in most cases it is less. If you find that the shipping cost feels a little high, let us know and we will have a look at it and change it if possible.

Our shopping cart system will calculate if FREE SHIPPING if the order is for rubbers and blades only and Over the value of $250.00 (applies for Australian Delivered Goods via Aust Post), if you add bulky items such as balls, bags, robots etc, shipping will be charged. If you are unsure, please contact us for clarification.

Free Shipping for some Rubbers in Australia does not include any Insurance, so if you would like your purchase Registered, (just in case things go wrong), select the registered post item in the Shipping Categories.

If you require Express Post for rubbers, please Select The Express Post option Here, Add this item to your cart.

If you have selected the Shipping on the product page, after checkout you will notice that it states pickup - our address. Please ignore this, we will post your goods as per your instructions.

If your country is not listed, email us and we will get back to you with a price.
Parcel lost or delayed:
If your parcel has not arrived within the expected shipping time, one of the following have most likely happened:
- It could be sitting in your local post office (when it was delivered there may have been no-one there). They would normally leave a note telling you to collect it. Please check at your local post office.
- If the address you supplied is incorrect, or the name of the addressee is not known at the address, it will be returned to us. This can take up to 4 weeks within Australia. And much longer outside of Australia.
- Post office error/stuff up. (This Happens)

To avoid lost parcels, Registered or Insured mail is recommended. If there are any questions, please feel free to contact us.

NOTE: It is a condition of sale that we cannot be held responsible for parcels lost or stolen within the postal system. We will however do our best to track down your parcel and submit investigation forms with the post office in the unlikely event of your parcel not being delivered. If you have paid with PayPal, and your item is not registered, you cannot use the Paypal System to recover the funds. If you live in a country with a questionable Postal Service ALWAYS chose Insured as your postal type. See image below.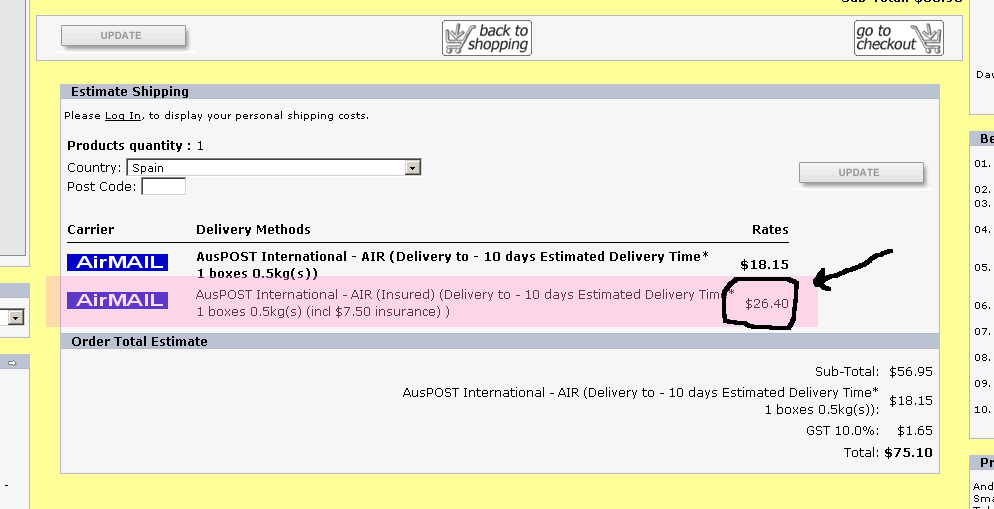 Shipping to Eurozone:
Due to new VAT regulations imposed on us, we no longer ship to any country in the Eurozone.